Join us as we venture into the virtual auction arena with our first ever 30th Anniversary Celebration Online Auction! Click here to view auction items, the auction will run from Friday, September 11th at 11 am, through Wednesday, September 16, 2020, 10 am. Winners will be announced via Facebook Live on Wednesday, September 16th at 1 pm. Followup phone calls and emails will be placed as well.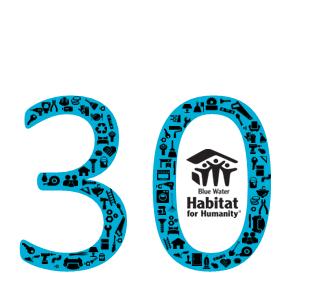 As you enter the auction website, please note on the left hand side of the screen (on a computer) or scroll down (on your smart phone) and you will see a button "View All Items".
Clicking that button will let you view all of the items included in our 30th Anniversary Habithon Auction!
If you would prefer to make an outright donation rather than bidding on anything, click the
Donate
button!
Funds generated from the auctioning of gallery prints, handcrafted/designed pieces and gift baskets/certificates will be used to further Blue Water Habitat for Humanity's mission within the local and international communities we serve.
Handsaws that were donated to the ReStore have been cleverly repurposed for use as office or home decor through artistic use of paint, canvas and beads, turning old rusty tools into something of beauty for those who win each bid on these fun works of art!

Click the link below to enter the auction site:

30th Anniversary Auction

Please click on "View All Items" to see our selection of donated items!
You will need to register in order to bid on item(s).
Many thanks!


We build strength, stability and self-reliance through shelter.

Everyone deserves an opportunity for a better life.
Blue Water Habitat for Humanity partners with people in St. Clair and Sanilac Counties and all over the world, helping them build or improve a place they can call home. Working alongside volunteers, Habitat homeowners put in hundreds of "sweat-equity" hours as they help build their own homes. Homeowners then purchase their home and pay an affordable mortgage.
The self-empowerment created by this opportunity helps homeowner families eliminate barriers to a better, healthier, more financially stable life. We believe that with a little help, we all have the potential to stand on our own.
Everyone can make a difference.
There are many ways to get involved, and your financial support, your voice and your time can change the lives of families in our community or around the world. We are best known for engaging people from all walks of life in rolling up their sleeves, getting a little dirty and lending their hands to our efforts. But along with that generous gift of time, financial support - no amount is too small - is critical to helping more families find strength, stability and self-reliance through decent and affordable shelter. No matter how you get involved, if you ever wanted to change the world and see the impact of your efforts, Habitat has a place f
or you.